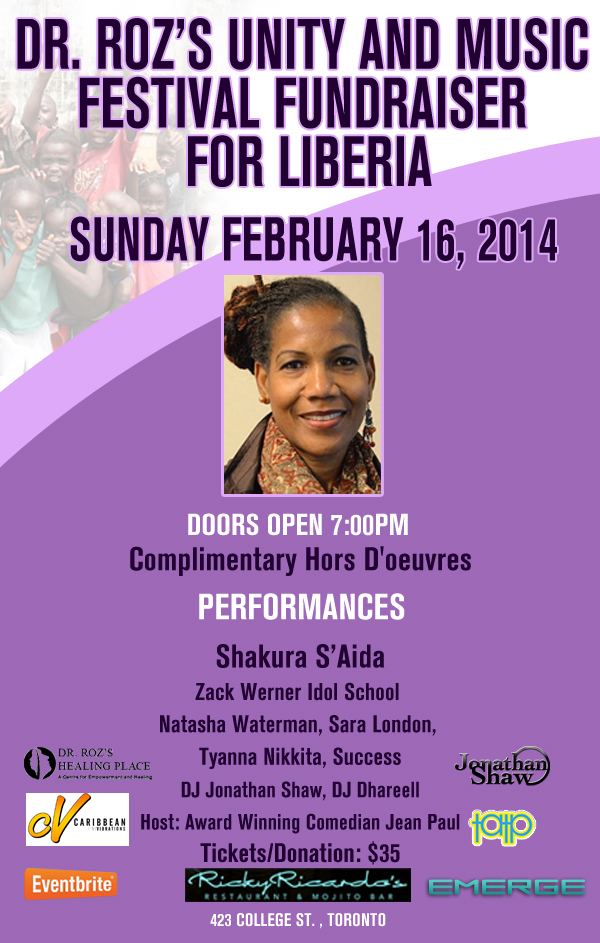 Dr. Roz's Healing Place, a Centre for the Empowerment and Healing of abused women and children is calling for drastic and immediate ACTION from governing bodies, social welfare agencies and the general public
to STOP the rape, abuse and murder of babies, girls and women in post-war Liberia.

As a result of two successive civil wars, 90% of women, girls and children are victims of sexual violence in Liberia.

Girls and women are raped and dumped by the side of he road and left for dead on a daily basis.
After meeting with numerous rape victims, encountering some as young as 5 YEARS OLD, Dr. Roz Roach; Executive Director of Dr. Roz's Healing Place is determined to raise money in an effort to provide life-saving services and support to Liberian women, children and babies.
In April 2014, Dr. Roz will be hosting a music festival in Monrovia, Liberia with the mission of educating the nation about sexual violence through public education and community outreach.
A documentary film crew will accompany Dr. Roz and her team on the ground to reveal the atrocities of child rape and to report on the essential life saving work DRHP Liberia Chapter is doing to ERADICATE sexual violence against babies, children and women in Liberia
We are reaching out to ask for your help and support in fundraising efforts to raise awareness of CHILD RAPE in Canada while SAVING LIVES in Liberia.
THE TIME HAS COME, THE TIME IS NOW!!
A LIFE WITHOUT VIOLENCE IS THE ONLY LIFE TO LIVE!
Sunday Februart 16
Ricky Ricardo's
423 College St., Toronto ON
Doors Open: 7:00PM
Complimentary Hors D'oeuvres
Performers:
Shakura S'Aida
Idol School w/ Zack Werner
Natasha Waterman, Sara London, Tyanna Nikkita, Success
http://www.drrozshealingplace.com/
DJ Jonathan Shaw, DJ Dhareell
Hosted by Award Winning Comedian Jean Paul
Tickets/Donation: $35